MapAttack!
MapAttack is a location-based game based on capturing and conquering virtual points on live city streets.
How To Play
What do you need?
iPhone 3GS or newer, or Android 2.2
A neighborhood or park
A group of 4-20 people you can play with
How long is the game?
Games can last anywhere from 20 min to 1½ hours depending on the size of the game board and total dots in the game.
Why play MapAttack?
It's a great way to run around with friends and feel like a kid again. MapAttack suddenly turns your neighborhood or city into a playground!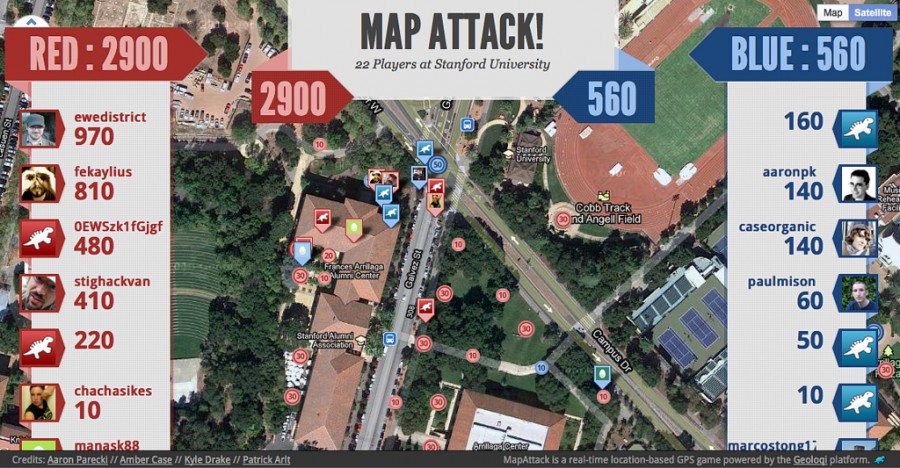 Want to Run a Game?
We've set it up so you can make your own games! It's not perfect, but it works.
Click this link to go to the Game Admin page. (You'll need a Geoloqi account to log in. You can Sign up for a Geoloqi account here (or login)
Create a game by centering the map and zoom size to the desired playing area (try to keep it relatively small). 25-35 points for 2-10 players is ideal.
Once you've created a game, you'll re-directed to the Points Editor, where you can add the points you want the game board to have.
You can easily add points to the board by clicking the "Add Line" button on the MapAttack editor. Then click anywhere on the map to place a dot, and anywhere else to draw a line. When you've drawn a shape, click the "Finish" button and the line will turn into dots. If you click on individual dots you can change their point value.
When you're done making a game, click "close" and you'll be taken back to the game editor. This is where you'll be able to see how many point have been captured, how many players have joined the game, how to end the game and reset the game points.
To view a game in process on the browser, simply click on the title of the game in the MapAttack Game Editor.
Tell game players to download the MapAttack game (either for iPhone or Android in the app stores). Have them go to the spot you set up the game and look for the game you made under nearby games on the app.
When everyone is outside, have players select the game from the list of nearby games. It will automatically assign teams randomly.
Get your two teams together, and tell them to go at the same time!
When all points are caught, click the "End Game" button in the Admin Panel and it will stop the game and show the final score.
Support and Frequently Asked Questions
Because Map Attack is a side project, we only offer the support below at this time.
Q: I can't make a game!
A: Sign up for a Geoloqi account (or login) and click this link to go to the Game Admin page.
Q: My friends and I can't find a game - what gives?
A: You probably aren't in the place where you made your game, you haven't walked outside and given the GPS a change to warm up.
Q: The MapAttack app is still using my location on the phone!
A: You can either force quit the app or ask your game master to click the "End Game" button on the game creation screen. Game masters can click the "End Game" button in the Admin Panel and it will stop the game and show the final score.
About MapAttack!
Why Build a Real-Time Geofencing Game?
We wanted to create a game that allowed people to physically interact with the real world instead of a computer console like a first person shooter or a real-time strategy game.
We were inspired by playing a real-life version of Pac-Man called Pacmanhattan, invented by graduate students at the Interactive Telecommunications Program at NYU in 2004. We played it at Portland WhereCamp conference in 2008, and we wanted to see if we could make a GPS-based version of the game, as Pacmanhattan relied entirely on phone calls and physical maps.
From our Blog
About Geoloqi
Geoloqi is a powerful platform for real-time location, messaging, and analytics.
Geoloqi is the platform behind MapAttack, built for real-time location streaming and geofencing. You can download the MapAttack sample code and see what building an application on the Geoloqi realtime API looks like!